Biljana Đorđević, MP of the movement Ne davimo Beograd, said today that the movement fully supports tomorrow's walk as part of Europride in Belgrade, and that there will be a discussion in the Assembly about the rights of the LGBT community in Serbia.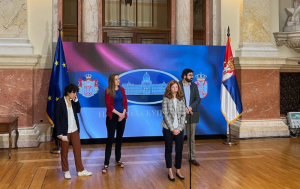 At a press conference in the building of the National Assembly, Đorđević said that the focus of that discussion was the right to freedom of assembly, which she claims has been threatened in Serbia especially in recent weeks, in the form of "playing with the cancellation of Europride". 
She said that the members of the Green-Left group, Ne davimo Beograd, will go on tomorrow's walk regardless of the circumstances. 
Radomir Lazović, Ne davimo Beograd MP, said that the discussion in the Assembly will be attended by, among others, representatives of the European Parliament, the European Green Party, and the organizers of Europride. 
"We defend the human rights of all of us. Your struggle is ours too. This morning I learned about the celebrations in Serbia, where people are not invited, but come on their own and feel that they belong there. We as European Greens feel that we belong to this event with you", said Melanie Vogel, member of the French Senate and co-chair of the European Green Party.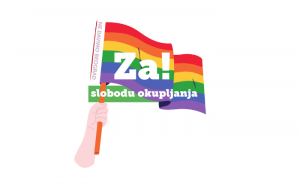 Lazović repeated Ne davimo Beograd position that the walk within the framework of Europride is important because in this way the citizens claim their rights. 
"It's about ordinary people who should have the right to live, work, love and express their protest, dissatisfaction or celebrate their diversity on the street." 
"We have no doubts that the Europride event served the Serbian authorities to manipulate the public, cause unnecessary tensions and turn the citizens of Serbia against each other, while on the other hand, Serbia is facing numerous serious problems, such as a large increase in food prices, double-digit inflation, pollution from which people get sick and die, devastation of natural and public assets," he added. 
According to Lazović, Ne davimo Beograd will offer long-term solutions to the problems of discrimination in the Parliament through the institutions. 

More from Ne davimo Beograd:
It is a real tragedy of our society that the same people who led to the fact that Kosovo is not de facto part of the constitutional order of
The Ne davimo Beograd movement elected a new/old leadership at the just concluded seventh Assembly of the movement. Natalija Simović, Dobrica Veselinović, Radomir Lazović, Robert Kozma and Biljana Đorđević
The movement Ne davimo Beograd believes that Serbia should harmonize its foreign policy with the European Union, otherwise, our country is on the way to losing its most important