Ne Davimo Beograd movement and the green-left coalition MORAMO have made the decision to nominate Professor Biljana Stojković as a candidate for the presidency of Serbia in the upcoming presidential elections, in front of the MORAMO coalition.
Professor Biljana Stojković's presidential campaign will be thematically based on those areas that are crucial for the coalition MORAMO and the Ne Davimo Beograd movement, such as green policies and environmental protection, social justice, quality of life of all our citizens, labour rights, education, health and fight against corruption.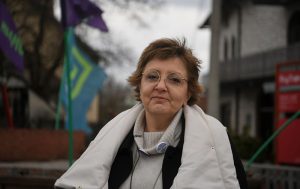 Biljana Stojković is a Doctor of Science, professor at the Faculty of Biology, University of Belgrade, author of numerous scientific papers, tireless activist and human rights defender, member of the Council of the Assembly of Free Serbia and columnist of the Peščanik website. Biljana Stojković has been an active fighter for human rights and freedoms for over two decades, known for organizing protests in front of the Central Prison for the release of Aleksandar Obradović, a whistleblower from Krušik military factory, blockade of the Rectorate in the fight against plagiarism by Siniša Mali, organisation of protests in the fight against the autocratic regime of Aleksandar Vučić, as well as for various actions in the fight for women's rights, women's reproductive health and the fight for the right to abortion. (more about Biljana Stojković)
The candidacy of Professor Biljana Stojković on behalf of the MORAMO coalition will complete our political offer and enable all those who are close to green and progressive ideas to be represented at every level of elections. We are a political option for all those people who care about social justice, a healthy environment and democracy, especially in a society that has been trampled on by one man's autocratic boot for too long.
"It is the duty of the president to take care of justice for all citizens. Until now, together with you, I have fought against injustice, on the streets, in the fields, in front of the prison and factory gates. But, because of the people whose misfortune cannot be seen or heard, WE MUST enter the institutions of the system. I MUST fight for our farmers and workers, for health and education, for peace between us and in us. I MUST, for land, air, water and freedom ", said Biljana Stojković at the beginning of the campaign, speaking at the rally in Gornji Nedeljice.
We certainly believe that in the second round, all opposition organizations should unreservedly support the opposition candidate, and we believe that it will be our candidate, Biljana Stojković. Citizens of Serbia will have the possibility to support Mrs. Stojković's candidature in numerous cities across the country, starting on Monday 7 March. The exact locations and dates are available here (in Serbian). 

More from Ne davimo Beograd:
The Ne davimo Beograd movement elected a new/old leadership at the just concluded seventh Assembly of the movement. Natalija Simović, Dobrica Veselinović, Radomir Lazović, Robert Kozma and Biljana Đorđević
The movement Ne davimo Beograd believes that Serbia should harmonize its foreign policy with the European Union, otherwise, our country is on the way to losing its most important
The head of the opposition group Ne davimo Beograd - Moramo in the City Assembly Dobrica Veselinović warned at the forum that they have not yet received an answer