The construction company Millennium Team is suing Ne davimo Beograd, asking for almost 100,000 € for material damages. These are supposedly caused by our publishing of a text on changes to the Belgrade urban plan. This change allows Millennium Team to demolish the Goša Institute for research and development and build a residential-business complex on the lot.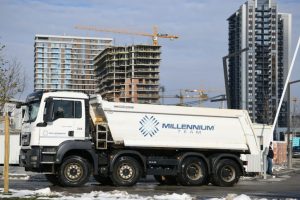 We find this lawsuit to be a form of pressure not only on opposition organizations in Serbia, but also on free media. "We consider this lawsuit a threat and a form of pressure on us, that aims to prevent us from informing the public about harmful projects implemented by the authorities and related companies" Dobrica Veselinović from Ne davimo Beograd said.
Millennium team is involved in several state-sponsored projects, the most famous among them being Belgrade Waterfront. The connections between this company and the ruling Serbian Progressive Party (EPP) were discovered by investigative journalists from the Crime and Corruption Reporting Network (KRIK), which revealed that Millennium team placed an apartment and a vehicle at the disposal of Minister of Finance Siniša Mali's brother, which is considered corruption according to many experts.

More from Ne davimo Beograd:
The Ne davimo Beograd Women's group is part of the Independent Women's Group, composed of representatives of women's organizations, civic initiatives and socially engaged individuals, which held a rally in support of women and girls from Jagodina who are potential victims of sexual exploitation on Saturday, June 5, at the People's Youth Square in Jagodina. Through direct action in the field, we sent a joint message to potential victims that they are not alone in this process, and that they are guaranteed assistance and support by law without having to reveal their identity and participate in the investigation and court proceedings.
"We want to be the better, the good side of Belgrade, the one that resides on the opposite side of the street from the one where illegal demolition and construction takes place," says Veselinović from Ne davimo Beograd movement.
The Ne davimo Beograd Movement held its third Assembly, at which reports on the work of the movement's bodies were presented, inaddition to a plan on how to liberate Belgrade, stop all harmful projects of the criminal government and fight for Belgrade to become a good city for everyone. At the final part of the event, the "Charter for a Good City" was presented, which was supported by over 150 public figures and independent intellectuals.