The movement Ne Davimo Beograd presented Dobrica Veselinović, the candidate for mayor of Belgrade, and a team of people who will, on behalf of the movement, be part of the green-left coalition MORAMO lists in the elections, in a packed hall of the Youth Centre.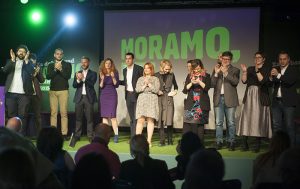 With great energy and support, the fifth Assembly of Ne Davimo Beograd made the decision to appoint Dobrica Veselinović to be candidate for mayor of Belgrade.
"This is a person who has been on the front lines of the fight for our city in the past 12 years. You could see Dobrica wherever people fight against injustice, in every neighbourhood, district and settlement of Belgrade. At protests or public hearings, at neighbourhood gatherings or expert discussions, at blockades or in the courtroom. He was always there when it was crucial to fight for Belgrade" said Radomir Lazović, introducing Veselinović. He added that this candidacy is not a product of political calculations and insincere compromises, but the movement's sincere desire for the best person to do the most responsible job in our city. "Dobrica is the only authentic candidate who has the programme, knowledge, desire, energy and team of people to make Belgrade a good city for everyone."
In his speech, Dobrica Veselinović pointed out that there is a great chance to free Belgrade and Serbia, stop all harmful projects of the criminal regime in place and make our country and city a good place to live.
"I believe that Belgrade can be a good city again.

A good city – with a sustainable future for all.

A city where we work together and preserve what we have done well.

A city where we promote public and natural goods – and for the benefit of all.

A city tailored to every child, which respects the rights of every human being.

A city that is open to all and whose services are available to all.

A city where it is healthy to live and where the future can be planned.

A city where we have a good time, but also sleep peacefully.

A city that makes a difference and respects all differences."
Ne Davimo Beograd candidates addressed the audience and presented specific parts of the coalition's programme, such as a plan for clean air in 6 steps, the plan for improving public transport and traffic, solutions to improve the quality of education, steps towards substantial decentralization and the importance of reducing social inequalities.
Robert Kozma pointed out that air pollution is one of the burning problems we face and presented our plan on how to get clean air.
Zoran Bukvić presented a plan for improving traffic that will solve the daily traffic collapses in the city, named "30 minutes from home to work".
Irena Fiket spoke about the necessity for citizens to ask themselves in which city and country they want to live and said that Ne Davimo Beograd wants to put back politics into the hands of citizens.
Jelena Vasiljević spoke about education, emphasizing that educators are marginalized, and students are functionally illiterate, and that dignity must be restored to teachers. She detailed how to achieve quality education for all children. Vladimir Simović from the Political Platform "Solidarnost", emphasized that the coalition will pay special attention to reducing social inequalities in our society.
Branislav Dimitrijević exhibited the so-called Third Way in cultural policies for which Ne Davimo Beograd is advocating. Concretely, this means that culture shall not be understood as an identity or market issue, but as a public good.
One of the fundamental values ​​of our movement is feminism, and Natalija Simović spoke about it.
Milan Ljutovac from the organisation "Izbor za našu opštinu" (Choice for our municipality) and Dušan Marković from "Akcija" spoke about the necessity of decentralization and providing the same living conditions for all citizens of Belgrade, so that the citizens of Batajnica or the left bank of the Danube would not be second-class citizens.
Anđela Ruvidić reminded those gathered of the struggles we fought in the whole city and when we supported the citizens of Mladenovac when they rebelled because the only gynecologist in town left without replacement. She also recalled about the defence of green areas in Borča, Čukarica and Batajnica or solutions for lack of adequate health services in Obrenovac, drinking water in Vrčin and the fight for the preservation of the Kalemegdan fortress.
Natalija Stojmenović presented the course of the campaign so far, in which the movement held over 200 gatherings with citizens in neighbourhoods and areas around the city, led a door-to-door campaign, started training of controllers at the beginning of last summer, which explains the fast growth of support towards the coalition.
Nikola Maslać from Inicijativa za Požegu presented the Green-Left coalition MORAMO and joint efforts, saying that the coalition will liberate Belgrade on April 3, and then the rest of Serbia from the ruling regime.
Nebojša Zelenović underlined that dialogue, cooperation and agreement that are being cultivated within MORAMO are the basis for a new force that this coalition represents and without which no important decision in the country will be possible. He expressed his support for the candidate for mayor of Belgrade and said that "as of tonight, we have the mayor of the capital, and that is Dobrica Veselinović."
Aleksandar Jovanović Ćuta thanked all those present at the joint fight on the blockades, protests and all the days they spent together on the barricades. He added that Serbia is tired of Aleksandar Vučić and that it is time for citizens to part ways with his regime.
In the end, Biljana Đorđević said that "we cannot solve the problem of education only in Belgrade schools because we want our students to be functionally literate both in Voždovac and in Nis or Bujanovac. We cannot ask for clean air in Belgrade without worrying about the quality of air in Valjevo, Smederevo or Bor, since polluted or clean air does not stop at the administrative borders of our settlements. The same is the case with freedom – the liberation of Belgrade will spill over to the rest of Serbia."

More from Ne davimo Beograd:
The Ne davimo Beograd movement elected a new/old leadership at the just concluded seventh Assembly of the movement. Natalija Simović, Dobrica Veselinović, Radomir Lazović, Robert Kozma and Biljana Đorđević
The movement Ne davimo Beograd believes that Serbia should harmonize its foreign policy with the European Union, otherwise, our country is on the way to losing its most important
The head of the opposition group Ne davimo Beograd - Moramo in the City Assembly Dobrica Veselinović warned at the forum that they have not yet received an answer