The main culprit for the additional slowdown, and essentially the setback in European integration, and the obstacle to Serbia's entry into the European Union is the ruling regime of the Serbian Progressive Party, regardless of the very difficult geopolitical situation in which the whole of Europe found itself.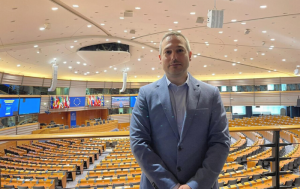 "The non-fulfillment of the EU's demand that Serbia impose sanctions on Russia is only one of the problems cited in the report, which the regime uses as an excuse to further slow down the process of joining the European Union. The European Commission's 2022 report on Serbia clearly shows that the country has serious problems with media freedom, the fight against corruption, energy security, and environmental protection. Some European officials, such as Vladimir Bilčik, also spoke about specific examples such as air pollution in Belgrade, at the presentation of the report."said Robert Kozma, who is visiting the European Parliament in Brussels and added that SNS cannot be expected to solve the problem of corruption, because they produce it, just as they cannot be expected to improve media freedom because the regime is just winning elections due to control and abuse of the media.
The successful integration of Serbia into the European Union would imply that the ruling regime establishes standards in the fight against crime and corruption, enables media freedom and stops controlling and obstructing the work of the prosecution and the judiciary, smear campaigns and insulting opposition political actors, but also respects human rights and dignity of all citizens and not to make employment in our public services, such as education and health, conditional to membership and support for the Serbian Progressive Party.
For the ruling regime of the SNS, this would only mean an accelerated loss of power. That is why they are doing everything to maintain and freeze the existing situation of Serbia. The country is officially in the process of European integration, but this process is merely about lobbying to replace the term "setback in integration" with "no progress or little progress", which essentially mean the same thing – that Serbia is stuck in failed European integrations. For the citizens of Serbia, this means that they will continue to live in a society with the highest economic discrepancies in Europe, with polluted air and a threatened environment, and collapsed institutions that cannot solve their daily problems.
At the same time, it became obvious that the ruling regime cannot and does not want to solve the everyday problems of our citizens in Kosovo, nor to find an adequate solution for the normalization of relations, but also that it cannot maintain the strategic direction of Serbia in the changed geopolitical situation, after Russia's attack on Ukraine.

More from Ne davimo Beograd:
It is a real tragedy of our society that the same people who led to the fact that Kosovo is not de facto part of the constitutional order of
The Ne davimo Beograd movement elected a new/old leadership at the just concluded seventh Assembly of the movement. Natalija Simović, Dobrica Veselinović, Radomir Lazović, Robert Kozma and Biljana Đorđević
The movement Ne davimo Beograd believes that Serbia should harmonize its foreign policy with the European Union, otherwise, our country is on the way to losing its most important