The construction company Millennium Team is suing Ne davimo, asking for almost 100,000 € for material damages. These are supposedly caused by our publishing of a text on changes to the Belgrade urban plan. This change allows Millennium Team to demolish the Goša Institute for research and development and build a residential-business complex on the lot.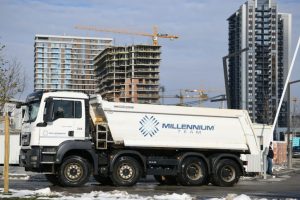 We find this lawsuit to be a form of pressure not only on opposition organizations in Serbia, but also on free media. "We consider this lawsuit a threat and a form of pressure on us, that aims to prevent us from informing the public about harmful projects implemented by the authorities and related companies" Dobrica Veselinović from Ne davimo Beograd said.
Millennium team is involved in several state-sponsored projects, the most famous among them being Belgrade Waterfront. The connections between this company and the ruling Serbian Progressive Party (EPP) were discovered by investigative journalists from the Crime and Corruption Reporting Network (KRIK), which revealed that Millennium team placed an apartment and a vehicle at the disposal of Minister of Finance Siniša Mali's brother, which is considered corruption according to many experts.

More from Ne davimo Beograd:
Five years after the demolition in Herzegovačka Street, there can be no doubt that the state – that is – the criminals who kidnapped it, organized this criminal offence. Although the phantoms and the group that instructed them have not yet been charged with it, they failed in their attempt to cover it up.
"We participate in these discussions because Serbia has an undemocratic regime. Unfortunately, the ruling government has transformed some form of democratic elections that had existed into an undemocratic hybrid regime. This has been assessed in several recent reports, such as Freedom House's or the European Parliament's. This is why we have these discussions, and not because we are asking for some political concessions. No, we only ask that citizens' rights be respected", Kozma said.
The Ne davimo Beograd movement congratulates their friends from the coalition Možemo! (We can) on great results achieved in local elections across Croatia. We paid special attention to the great victory that our colleagues and friends achieved in the city of Zagreb, where they will be able to take power and responsibility for the future of their city. Congratulations to Tomislav Tomašević, who almost secured the victory for mayor in the first round, and succeeded to do so in the second with a significant majority (63%).