After the Environmental Protection Agency published a report on the state of air quality in Serbia for 2020, it is obvious that there has been no progress in solving this problem over the last five years. Namely, for the fifth year in a row, the air quality in Belgrade is categorized in the worst, third category.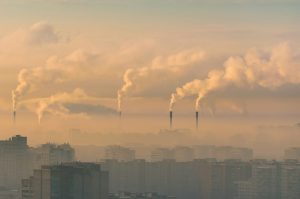 As the Ne davimo Beograd (Don't Let Belgrade (D)rown) Movement has been warning for years, nothing is being done to protect citizens from the dangerous air they breathe. The Serbian Progressive Party and the Socialist Party of Serbia have managed environmental issues in Serbia over the last 8 and 12 years, respectively. This is not an allegation that we make lightly, because we have filed two criminal charges against the previous Minister of Environmental Protection, for the criminal offense of Failure to Take Environmental Protection Measures under Art. 261 CC and violating the right to information on the state of the environment under Article 268 CC.
According to the Agency's latest report, due to exceeding the limit values ​​for  PM 2.5 and PM 10 suspended particles, Belgrade, along with Niš, Pančevo, Smederevo, Kosjerić and Užice, found itself among the most polluted in the country. Even in the first few months of the pandemic, when there was a drop in air pollution due to lockdown measures, the data on an annual level remained frightening.
Excessive PM 10 pollution was recorded in Veliki Crljeni – 107 days, Obrenovac – 95, in Despot Stefan Boulevard – 90 days, in New Belgrade – 74, Vračar – 42, Stari Grad – 46, Ovča – 44, Mostar – 32, KBC "Dragiša Mišović" – 24 days. Exceedances of PM 2.5 pollution were recorded in Veliki Crljeni, Ušće, New Belgrade and Stari Grad. In addition to pollution with these pollutants, which are extremely harmful to health, the Report also states that pollution with nitrogen dioxide, sulfur dioxide and ozone is a danger.
The largest sources of pollution with suspended particles PM 2.5 and PM 10 are heating plants and individual combustion plants, while thermal power plants and traffic are sources of sulfur dioxide and nitrogen dioxide emissions, which PM particles can also be formed from in the atmosphere.
Ne davimo Beograd, together with experts and civil society organizations, has developed a set of short-term and long-term measures to protect the population from extreme values ​​of air pollution and solve this problem in the long run, but we haven't seen any progress on this matter from the authorities, apart from lowering air pollution criteria to make the same air appear less dangerous.
Read more about measures to improve air quality and protect citizens at the link
One thing is for sure, the set numbers cannot erase the consequences of inhaling polluted air, and they are devastating. Various studies show that between 7,000 and 15,000 people die prematurely as a result of air pollution, and a huge number of those suffer from serious illnesses, such as lung cancer. Serbia is also among the first in the world in terms of the number of patients with lung cancer.

More from Ne davimo Beograd:
Speaking at the "Green Wave in the Western Balkans" gathering, which was held in the European Parliament, Radomir Lazović said that Serbia has been without a parliament for three months and that Aleksandar Vučić's policy is the biggest obstacle to Serbia's European integration, but more importantly, it is an obstacle to quality life of Serbian citizens, the rule of law or a healthy environment.
According to the preliminary results of our election control team, the MORAMO coalition won 10.90% of the votes in Belgrade and thus is the third political force in our city with almost 100,000 votes of support
Ne Davimo Beograd movement and the green-left coalition MORAMO have made the decision to nominate Professor Biljana Stojković as a candidate for the presidency of Serbia in the upcoming presidential elections, in front of the MORAMO coalition.